What Our Leading RPO Clients Say About Horsefly:
Samm Bain
Head of Media, Pertemps
"Horsefly is a great easy to use tool that provides you with candidate and market insight to help your business make effective decisions. Horsefly is the right tool in the right hands."
Sarah Howard
Group Head of Marketing, Communications & Research, Serocor
"How can you do your job without all this data? Horsefly will absolutely give you a seat at the table and build your credibility and trust with your internal stakeholders at all levels. Can't recommend Horsefly enough."
Business Development Team
Hays
"We essentially use Horsefly to help us fill more jobs quickly... The team has been more efficient as a direct result,and what used to take a half-day now takes minutes using Horsefly."
Become a Trusted Advisor. Increase Your Brand and Reputation as a Subject Matter Expert. Provide Your Clients and Prospects with Customized Talent Maps, Reports, and Industry Data - all of which can be easily downloaded and exported into pdf and csv files.
How to be Seen as The Expert Voice:
Challenge Stakeholders throughout the process by providing actionable and accurate data that guides clients' future strategies.
Set Budget Expectations
Provide accurate salary data on individual job titles or roles to manage budgets and expectation.
Assess Role Filability
Quickly gauge how easy a particular role will be able to be filled and look for alternative job titles for in demand talent.
Easily Create Sourcing Plans
Create customised sourcing plans based on the supply and demand talent map, using a combination of factors including supply and demand, length of experience, and looking at the competitor landscape.
Leverage Impactful and Visual Data
Put together powerful data visualisations in mere minutes to show the availability of talent for any role, skill set or location around the world.
Close the Gender Gap
View Gender Gap data for any position to understand the true pool of female candidates.
Horsefly is the Ideal Tool for RPOs & Recruitment Teams
Quickly create customised reports and overviews for clients and prospects that drive hiring, and position you as a strategic advisor.
Powerful and Simple Platform
Easy for your team to learn. Analyze data in minutes, and quickly generate visual results such as global heat maps. Data is easily exportable to pdf and csv files.
Hands on Customer Support Team
Horsefly Analytics offers an high degree of customized support to our clients. Our team works with customers every step of the way from adoption, to identifying clear ROIs and delivering upon them.
Most Accurate & Complete Dataset
Data is compiled from hundreds of sources, and by using artificial intelligence tools, our platform adjusts and becomes more insightful by the day. We take extensive measures to clean our data and ensure its accuracy.
Horsefly Contains All The Data You Need to Put Together Insights That Set Your Firm Apart From The Competition
Everyday Horsefly aggregates millions of online job postings to come up with supply metrics that can be filtered by experience, gender, job title, keywords and more - allowing you to put together an unlimited amount of insightful reports to position your firm as a thought leader, ultimately driving revenue by winning bids and tenders.

Explore just some of the datasets in our platform, all downloadable to pdf and csv:
LABOR MARKET SUPPLY DATA
Easily compare locations to see where your best chance of finding candidates is, and add and remove skills and requirements to both widen and shrink your talent pool.
Gender data can be used to support initiatives around promoting and building female talent from within organisations.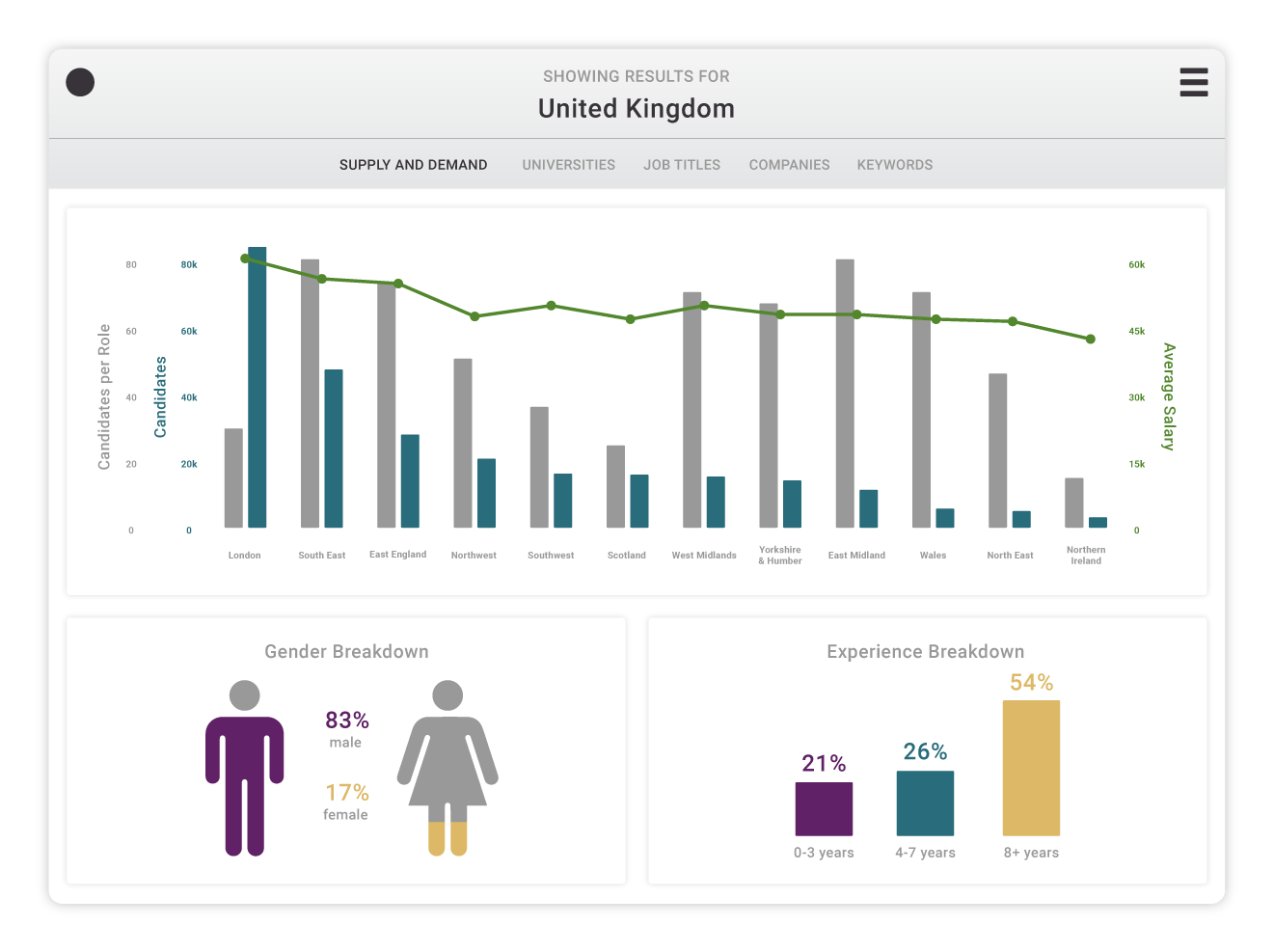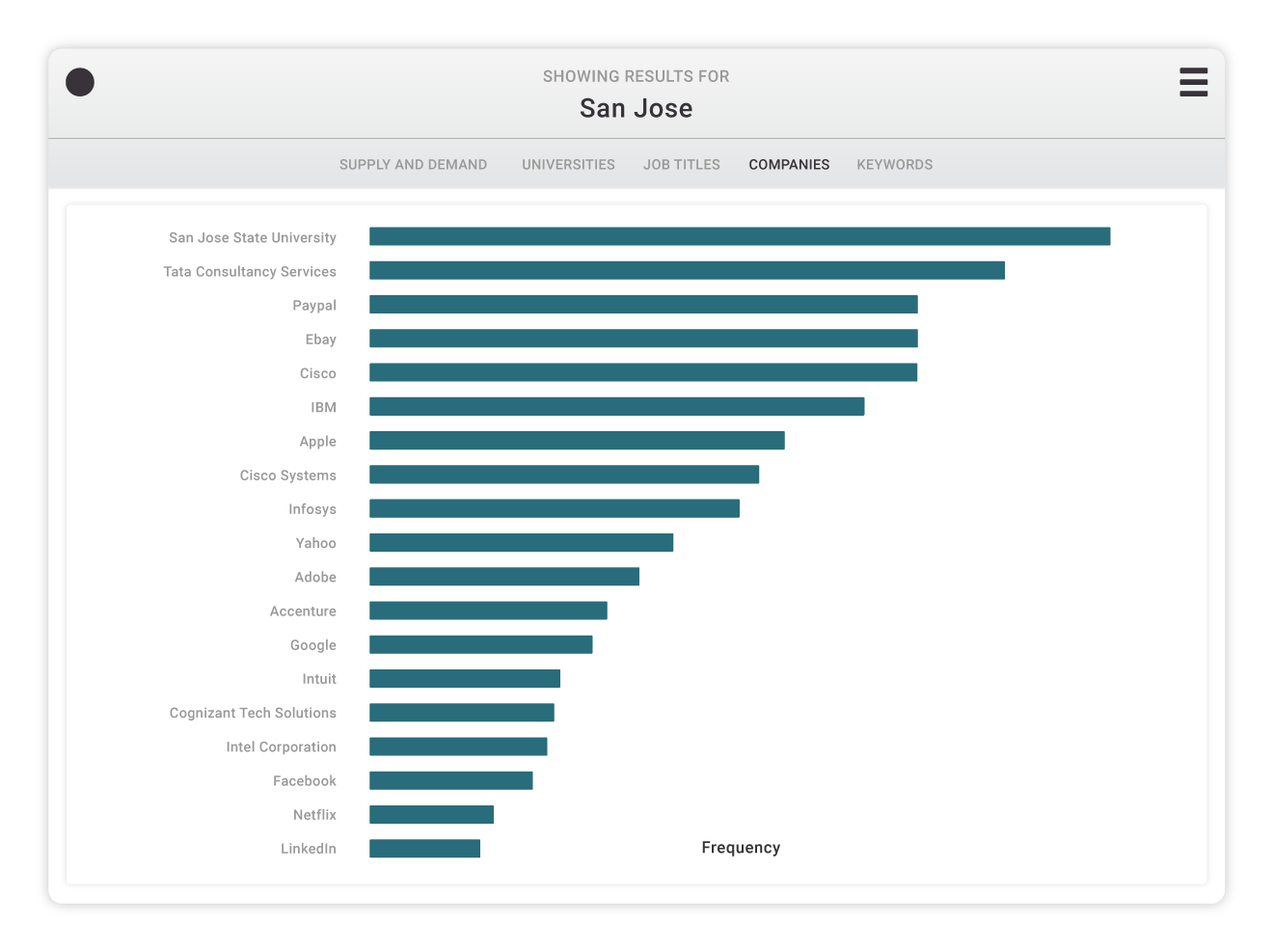 COMPANY DATA
Perfect for RPOs and recruitment teams, Horsefly lets you create a combination of any set of skills, job titles and location to quickly see where candidates matching your search criteria are currently working.
Explore further by clicking on any company and see where they are hiring from and which companies they are losing employees to.
See which companies are hiring hard to fill roles, and where their employees are leaving to.
EXPLORE TALENT GLOBALLY
Help drive your client's expansion initiatives by comparing supply and demand in locations around the world.
Use Horsefly's heatmaps to find and compare places in the world that talent at the right price.
You can also create custom locations, for example, Bangalore + 50 miles.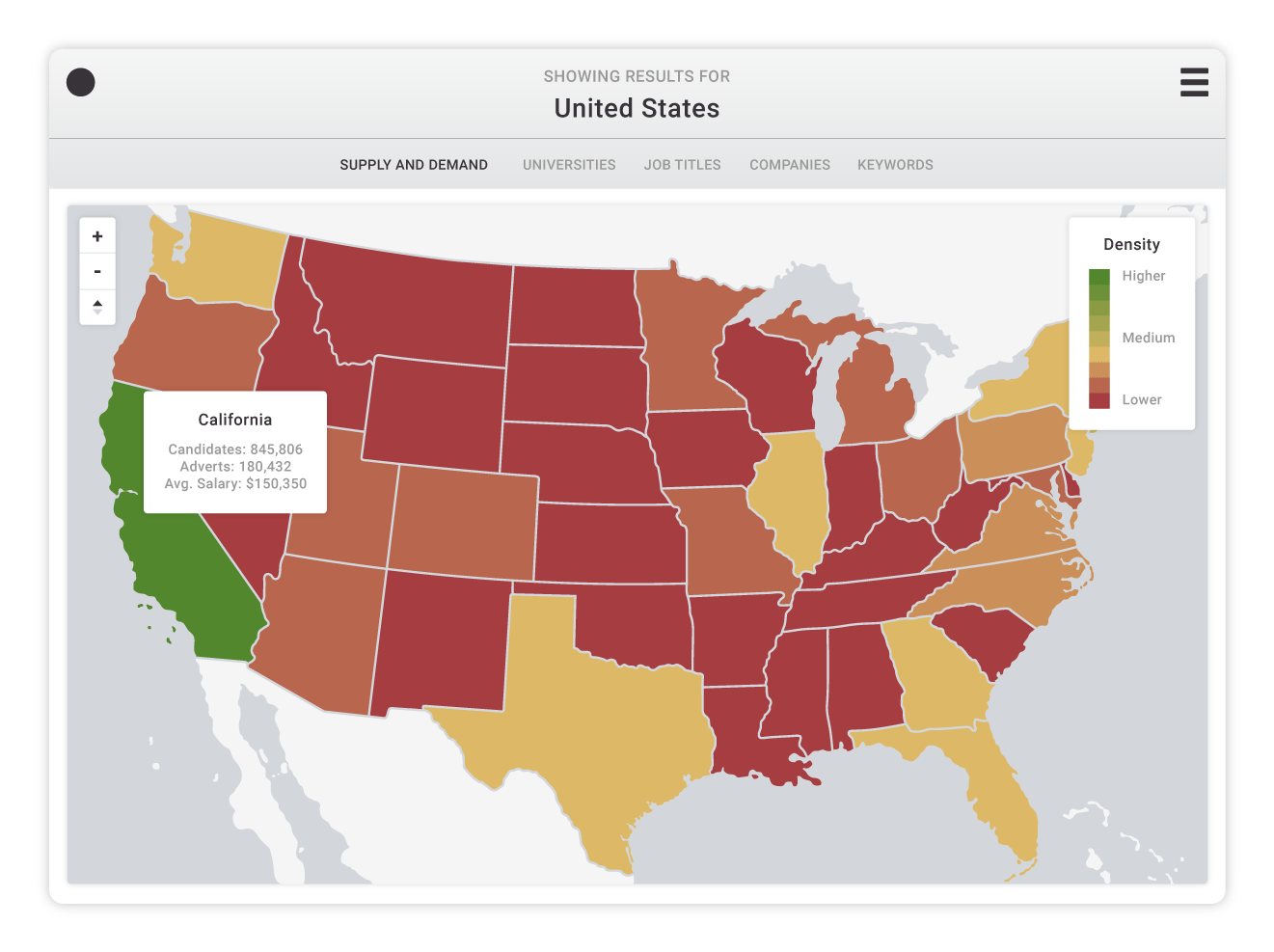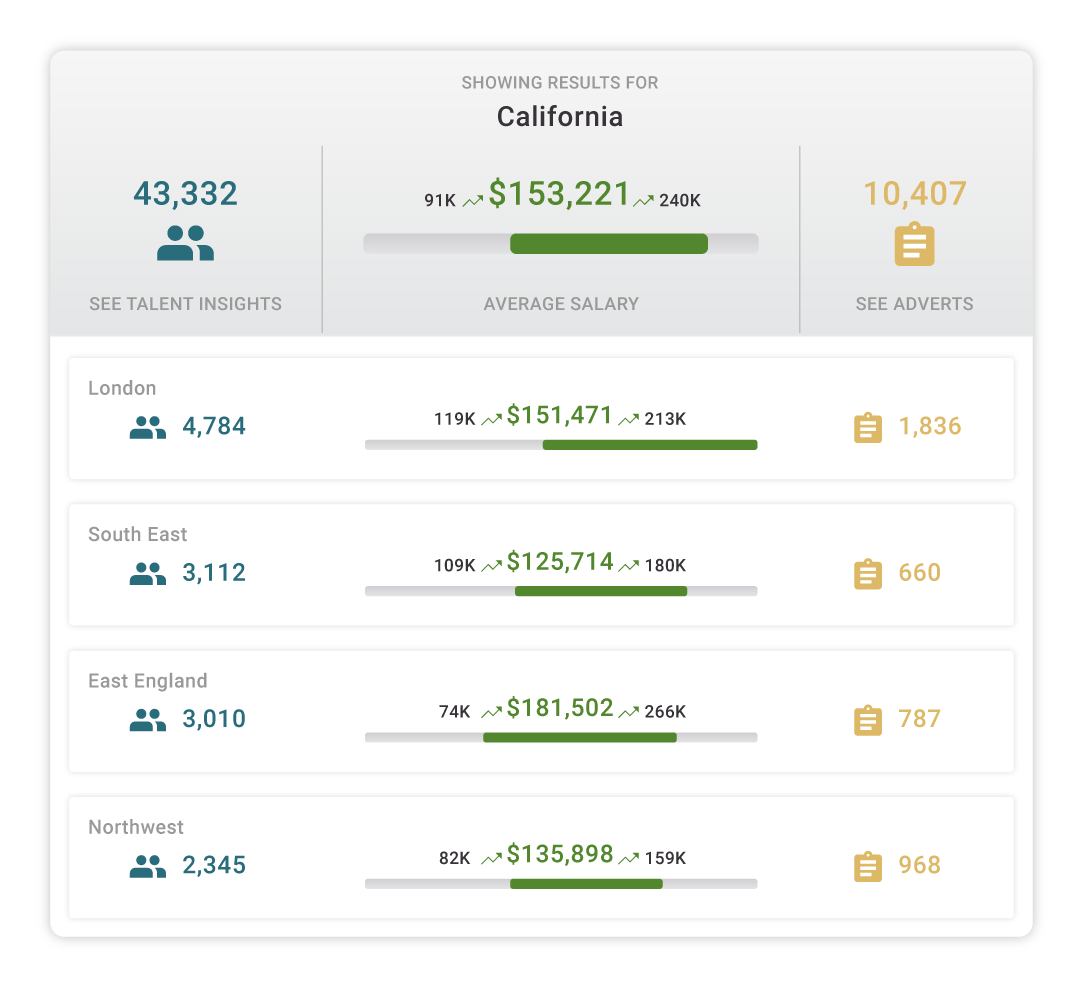 GET ACCURATE COMPENSATION DATA
Ensure you and your clients are on the same page regarding compensation for candidates. For tough to fill roles, provide clients with options ranging from salary adjustments, alternative skill profiles,
Get Started with Horsefly Analytics
See how Horsefly can provide ROI to your business and help you future proof your organization.